"Fremont, The Center of the Universe"
More than a financial investment, HOME is comfort, an extension of individuality. We're very fortunate in Seattle to be surrounded by many distinct neighborhoods each with their own personality; my goal as a real estate advisor is to guide my clients into a home that amplifies their lives.
I present, Fremont, located on the north end of Lake Union who's roots date back to 1888, thirty years after the first Euro American settlers landed at Alki Beach in West Seattle.
The area was growing slowly as new investors and developers recognized opportunity, among them a couple from Fremont, Nebraska pursued land just north of current day downtown Seattle. Prior to the time, people had been traveling by boat across Lake Union given the lack of accessibility by road. It wouldn't be long before Edward and Carrie Blewett brought a streetcar line along the west side of the lake (Westlake Avenue) to the modern day Fremont neighborhood.
It's location along the Slough known as "The Outlet" or water way connecting Lake Union to the Puget Sound was a convenient stop for settlers and played a major role in the continued development of the area. Fremont Ave and N. 34th St became known as the Center Of The Universe, marked today by the Waiting For The Interurban statue. The railway eventually went on to connect the neighborhoods of Green Lake, Phinney Ridge, Wallingford and even Everett.
Undoubtedly a lot has changed since the late 1800s. Large tech companies such as Google and Tableau share space with brands such as Brooks Running and Lib Tech Snowboards. Artisan bakeries, craft breweries and classic music venues line the streets while the Burke Gillman Trail connects cyclists and runners from Ballard to Bothell and provides an easy commute to downtown.
Among the great companies to call Fremont home is Evo known primarily as an online retailer specializing in outdoor equipment ranging from mountain bikes to snowboards and all the associated accessories.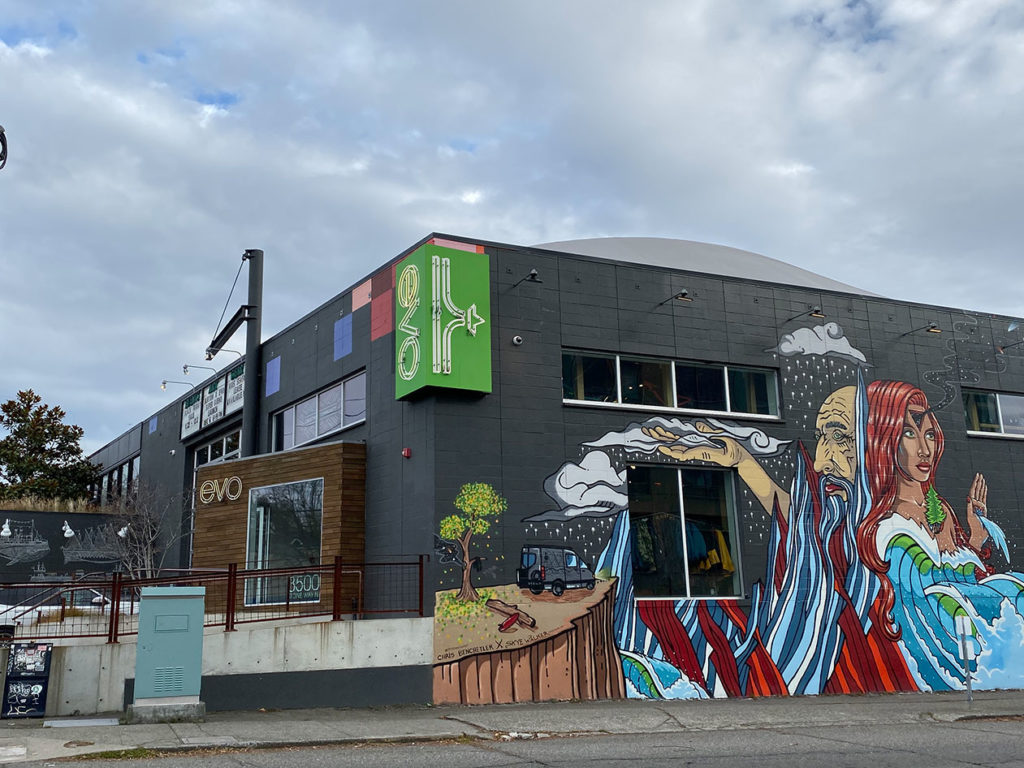 Evo opened its first brick and mortar storefront in Seattle's Fremont Neighborhood in 2005. Since then they've grown to included stores in Portland, Devner and recently, Whistler. Founder Bryce Phillips will tell you their business is not selling gear, rather providing a space for community interaction and philanthropic efforts. Since their beginning Evo has made a point to host events centered around the activities they promote incorporating the charities they support.
"At Evo we're looking to blur the lines meaning it wasn't just about selling stuff it was about bringing people together through events with a philanthropic bend so we can really help organizations we get behind," says Phillips.
As someone who's followed Evo's existence from the start in 2005 I can honestly say they've done nothing short of achieving this goal. Monthly free events ranging from art shows to movie premiers, NOAA fundraising gatherings and many more. The mission is clear and the neighborhood of Fremont is strengthened with such a presence.
The ideal way to experience Fremont in my opinion is to ride in on bicycle along the Burke Gillman trail and head straight to Stone Way Cafe for breakfast and a coffee. Next walk over to Evo to admire all the gear and accessories. There's a great vintage shop on Fremont Ave called The Fremont Vintage Mall. Sundays are the day for the Fremont Market which dates back to 1990 mimicking a European style street market. Grab a beer at the Fremont Brewery and definitely make a point either that night or another to see a show at Nectar Lounge. Especially look out for Seattle's most famous reggae artist, Clinton Fearon, he's a Nectar regular.
If you're in the real estate market, whether buying or selling, I'd love the opportunity to share my experience and guidance with you. I very much want to be the person trusted through this major life time achievement.
-Peter Mullenbach