Over $3,000 raised for Outdoors For All
The vibe was tense and the gallery was still as Warker Porthington stepped to the first tee, or at least it seemed that way to Warker striving to block out the laughter, heckling and overall conversation stemming from the registration booth/beer garden/makeshift Big Marios dining tables adorned with little red candles setting a scene consistent with their aesthetic around town. Approaching the ball he adjusted his feet and gave a little booty shake before commencing his backswing. Those who witnessed what happened next dropped to their knees in gut wrenching laughter as Warker violently sliced his tee shot to the right ricocheting off a tree straight left and striking a car sitting among stop-and-go traffic along Green Lake Way. Thankfully the owner of the car was cool in his response yelling out, "Well, you've got to play it as it lies."
And so began the first Annual Good Place Pacific Classic Legends Charity Golf Shindig at the Green Lake Pitch and Putt.
The event took place on August 7th, 2019 benefiting Outdoors For All, a foundation dedicated to supporting disabled youth and adults experience outdoor activity. Now I'd had some experience with events like this from the past; however, this was my first under the Good Place Pacific flag if you will. Needless to say I wasn't quite sure how it'd turn out. My goal was simply to run a smooth event bringing people together for a great cause and hopefully giving people an opportunity to enjoy a nice Seattle summer evening.
We were allotted fifty golf spots and the hope was to fill at least thirty-five of them. In the end seventy+ people were in attendance and over $3,000.00 raised for charity!
A two-player scramble, each pair competed for a custom trophy constructed by Seattle's Electric Coffin which meant if you wanted to take the golfing seriously there was an opportunity to go home with a piece of art.
Hole number three was an optional casino hole where players could bet on their ability to drop their tee shot within a tight section of the green surrounding the pin. Hole number six was a traditional closest to the pin contest where the winner would be awarded a new snowboard from Lib Technologies and then of course we had a putting contest on the practice green for a bottle of Tequila; who do you suppose won the booze? Good ol' Warker our protagonist from earlier, turns out the guy can putt! Evo gave away a $100 raffle prize gift certificate, Aslan, Tieton and Brew Dr. quenched our thirst while Big Marios supplied pizza for all to enjoy.
Thank you all for coming and thank you to all the sponsors for their product donations! Put it on your calendar for next year and tell your friends!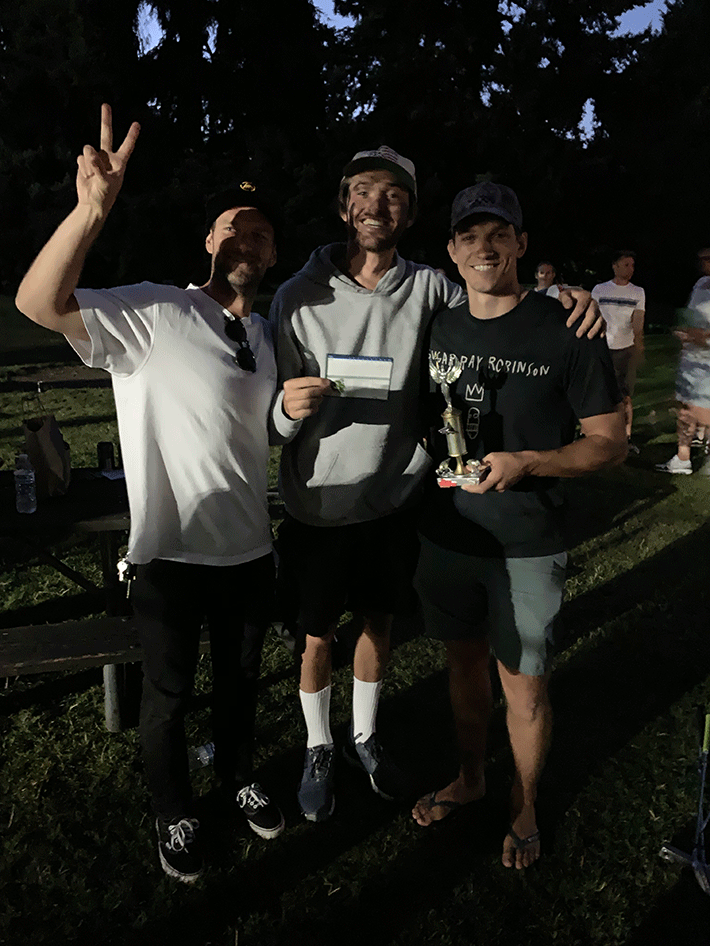 Sponsors: Aslan Brewing, Tieton Cider, Brew Dr Kombucha, Lib Technologies, Electric Coffin, Big Marios Pizza, Penrith Home Loans, Windermere Real Estate
-Peter Mullenbach